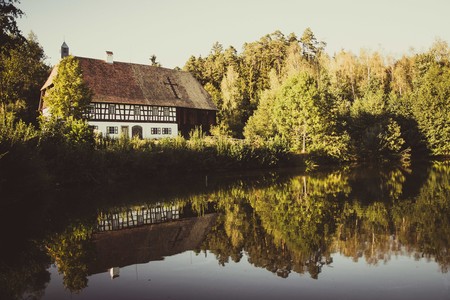 The Freilandmusem Oberpfalz was planned and designed based on a concept which was unique in the 1980s throughout Germany and Europe and which is exemplary to this day:
Displaying the history, culture and nature of the Oberpfalz, based on its distinct regions.
Thus, the house landscapes of the Oberpfalz with their buildings typical of the regions came into being. After the turn of the shovel on 28 March 1980 the Stiftland, Oberpfälzer Wald, Oberpfälzer Jura and Nabburger Straße villages as well as the Mühlental were constructed on 30 hectares of land. The now 50 transferred and reconstructed buildings were linked through historic country roads and paths in the style of the 19th century. The fields are traditionally cultivated by agriculturists of the museum. Every year the changes in nature are gathered and documented by scientists. Alongside the open buildings you frequently encounter old pet breeds such as geese, sheep, cows, horses and goats throughout your tour. Peacocks, pigs and rabbits also live in the stables and fields.
---
Opening hours
Tuesday till Sunday:
9 A.M. – 6 P.M.
Closed on Mondays, except on holidays
Prices Freilandmuseum in Neusath
Bauernmuseum Perschen: free admission
Adults:


Discounted (students, disabled, participants in the voluntary service, holders of the Bayerische Ehrenamtskarte):

School Groups:

Groups Over 15 People:

Families (see note):
Day Pass € 6,00 Annual Pass € 20,00

Day Pass € 4,00
Annual Pass € 15,00

Per Student € 2,50

Per Person € 4,00

Day Pass € 13,00
Annual Pass € 40,00
Please note: Our family plan applies to up to two adults and their children up to 18 years old. With older children a student card must be presented. Registered life partners (in accord with the civil partnership law – LpartG) are also acknowledged, as well as patchwork families with a common residence.
Journalists are issued with free admission after advanced reservations, if a coverage is planned (free journalists with a concrete assignment).
Payment though ATM or credit cards unfortunately is not possible.
There are QR codes on our signs that provide access to information on our buildings in English. You need a QR scanner on your mobile device and an internet connection to access the web pages.
---